Tec-Dive-Competence-Center
2HE-2
The 2HE-2 is the world's first Tec-Diving-Expedition ship. She is a 24 m long aluminum sailing- catamaran and is equipped with a mobile diving chamber, connected to a hyperbaric treatment center. A precision trimix blending and filling equipment, a moon pool*, a ROUV (Remotely Operated Underwater Vehicle), a side-scan sonar for locating wrecks, a vast number of gas-storage tanks and water-cooled tec-air-compressors are mounted. She is furthermore completely emission-free.
When designing 2HE-2, we aimed to provide the first ship worldwide, fully equipped for technical diving and powered emission-free. The 2HE-2 has all necessary equipment for technical diving at her disposal. This includes water-cooled breathing gas-compressors with certified breathing gas quality meeting highest purity standards, precision gas blending equipment (helium, oxygen, nitrogen), oxygen-booster, tec-equipment from the leading, recognized manufacturers, ranging from breathing regulators to stage tanks.
The on-board service workshop (breathing regulator revision, dry-suit service, rebreather maintenance and repair works, etc.) for diving equipment shows we are ready for the needs of OC and CC tec-divers. As a special highlight and unique in non-commercial/military diving throughout the world, the 2HE-2 is in possession of a fully equipped hyperbaric treatment center. Led by a diving physician it consists of a diving chamber, directly connected to an airlock (Haux Medistar & Medilock), and emergency medical equipment (patient monitoring, ECG, EEG, ultrasonography, etc.) to ensure competent treatment of diving accidents immediately and directly on-board, even in the outmost regions of the oceans. A unique contribution to better security in technical diving!
Apart from the uncompromising focus on technical diving, we furthermore highly value an ecologically responsible operation of our ship. Even a comparatively small, commercial diving safari vessel with an engine power of 500 PS, such as which are operated in a large number in the Red Sea, cause an emission of greenhouse gases which is equivalent to that of 4 000 (!) modern average cars** travelling at a speed of 95 km/h. Hardly any emission control systems (electrical motor controlling, exhaust gas recirculation, catalysts, particle filters) are being used for ship motors, especially outside of the EU / US and unlike cars since a short while ago. We have therefore decided not to use any internal combustion engine. This is overall achieved through powering the ship by sails, an ingenious system of solar panels, wind generators, electrical engines and a recovery system for electrical energy during sailing.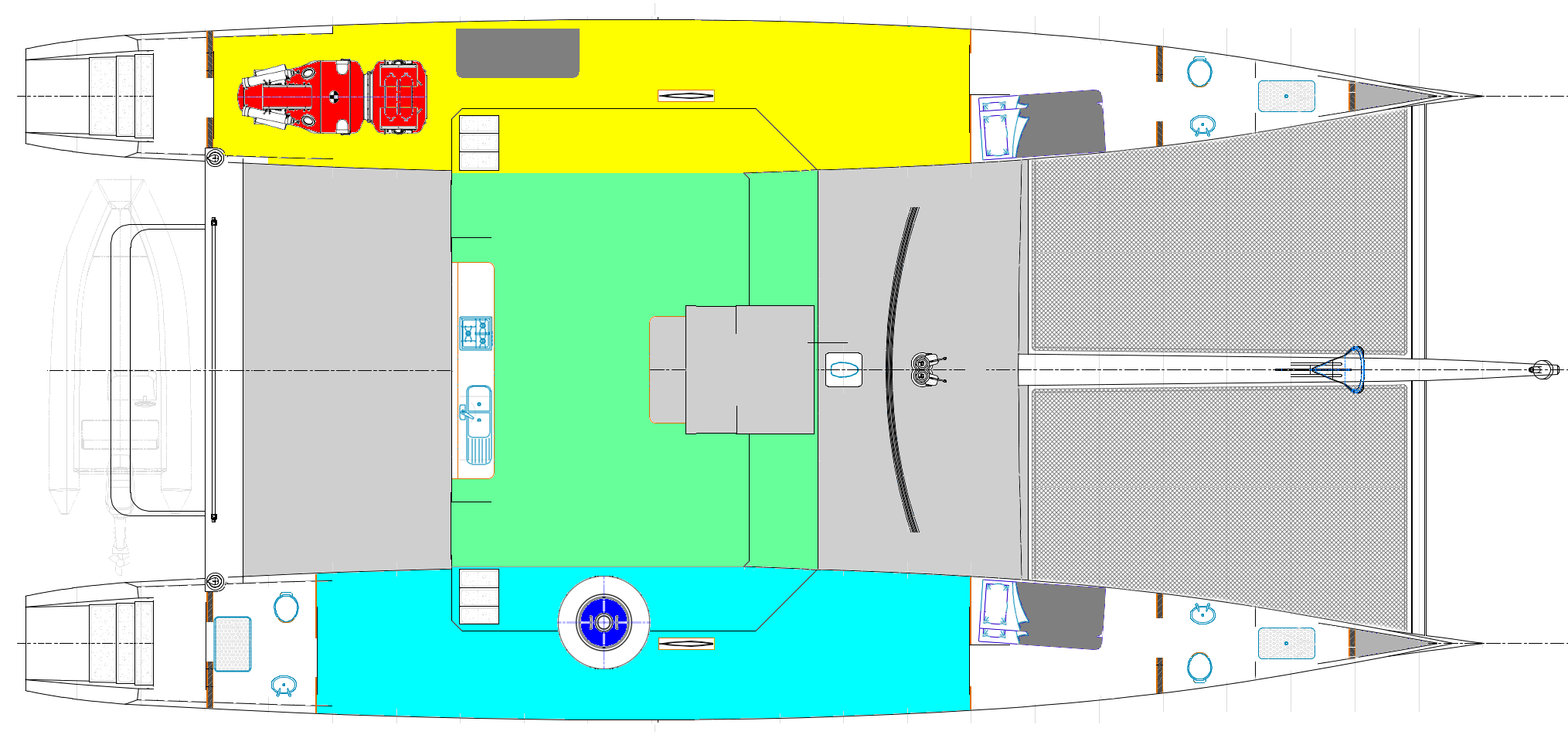 ---
---
*Moon pool is the international term for an opening in the ship's hull. It enables the deployment of divers, Remotely Operated Vehicles and other underwater equipment without being affected by wind or rough sea conditions. It is widely used on oil rigs, drilling ships, research ships, commercial diving ships and multiple-purpose ships.
** Calculation base for car: emission standard Euro 6, fuel consumption 6,2 l gasoline / 100 km – Calculation base for safari vessel: marine 2-stroke-diesel engine, complying with no emission standards (this is the realistic case!)